The Best Video Recording Tool in 2022
In this post, we compare the two leading video recording tools of 2022 and discuss their Pros and Cons.Which one's the better choice? Keep reading to find out.Video recording tools are a definite need of the hour. From Personal Needs to Professional tasks, execution through video is an indispensable part of any project. Video Recording Tools provide any individual or organisation the ease to deliver power-packed output throughout a variety of platforms.
In 2022, the Internet is flooded with multiple options of Video Recording Tools, each one having its own distinctness and value additions. As a user, it can indeed be confusing to select the right one for your video tasks. To resolve this confusion, we compare the two leading Video Recording Tools of 2022, Loom and FanVideo in this blog.
Loom vs. FanVideo - An Honest Comparison
Loom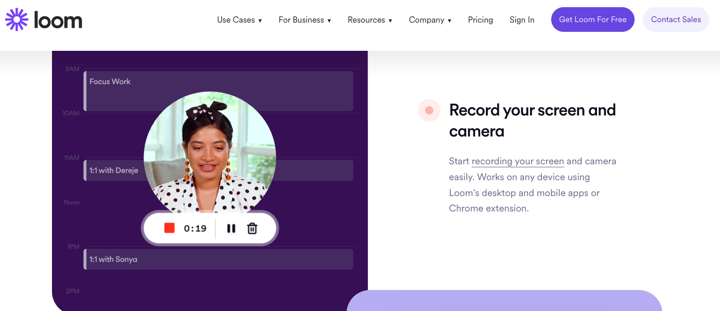 Loom is a free video screen recorder that works on multiple platforms and allows users to record, share and edit videos effortlessly.
Features:
- Simple and Minimal Interface
- Offers Recording, Sharing, and Editing of Videos
- Installation through Sign-In
- In-built Transcription Tools
- Multiple users can work as a team
- Provides Insights
- Comes with three different type of plans for Starters, Business, and Enterprise
Best For: Students, Freelancers, Small Businesses looking for a Free Video Recording Tool
Works on: iOS, Android, Mac, Windows, Chrome
Price: Free for Starters; $8 Per Month for Business; Custom Pricing for Bigger Enterprises
Pros:
- Free and Effective
- Easy to use and understand
- Videos can be recorded up to 4K
- Allows simultaneous Sharing
- Affordable Pricing
- Available as a Mobile App for iOS and Android
Cons:
- Limited Features
- Videos can be recorded in higher resolution only in the Paid Plans
- Free version only allows for 5 Minute Videos
Final Thoughts:
If you are looking for a free and basic alternative for recording short-length videos online specifically for presentations or meetings, then Loom is the way to go.
FanVideo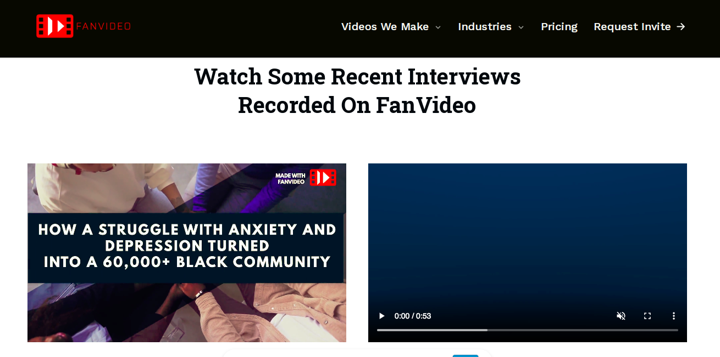 FanVideo is an online video recording platform that offers high-quality video recording in HD Output. It allows users to create videos for multiple mediums at an affordable cost.
Features:
- It can record videos locally in up to 4K Resolution
- High and uncompressed audio quality
- Offers Automatic Transcription and Subtitles
- Teleprompter with multiple language options
- In-Built Auto-magic Video Editor
- Output is available in Different Shapes and Sizes according to different mediums
- One-on-One and Multiparticipant Video Call
- Secure Hosting and Management
Best For:
- Freelancers, Professionals, Speakers, Marketers, and Companies looking for an all-in-one solution to
multiple video recording needs
Works on: iOS/Windows
Price: Free Trial for 30 Credits; ₹1425/- Per month for Starter Plan; ₹11,175/- Per month for Business Plan;
₹22,425/- Per month for Professional Plan; Custom Pricing for Enterprises
Pros:
- Better Video Quality as compared to counterparts
- Video Options and Templates suited for different platforms
- Features a comprehensive Video Editor
- In-built Teleprompter and Transcription
- Great for Conducting Online Events and Interviews
- Great for Creating Social Media Videos and Ads
- Multiple customization tools for branding
- Ease of Sharing
Cons:
- Pricey
- Higher Video Quality accessible only in the Paid Plan
- Not suited for Beginners looking for a free alternative
Final Thoughts:
FanVideo is one of the best Video Recording Tools of 2022. From Superior Video Quality to in-built tools best suited for anyone looking to leave a thoughtful impact through video, the best part of FanVideo is that it comes with every possible feature that any individual or enterprise might need. The only drawback, however, is the price.
Conclusion: Loom vs. FanVideo
While Loom is a go-to video recording alternative for anyone looking for a free video recorder, the FanVideo comes with paid plans. If you are looking for a simple and basic online video recording tool, suitable for basic and routine tasks, then Loom is the way to go.
However, if you are looking for a Video Recording Tool to create high-impact and engagement-driven videos, then FanVideo is the right option for you.
While Loom offers a basic video editing platform with a set template, FanVideo offers platform-specific templates and recording options. The in-built comprehensive video editor, teleprompter, and transcription tools which are not available in Loom are a plus.
For anyone looking to host an online event or make videos with the intent of thought leadership or higher engagement for Web, Social Media, and other impactful mediums, FanVideo is a suitable option. For those looking to make basic videos for the purposes of presentation or to uncomplicate meetings, Loom is a suitable option.