It is the year 2022 and Video Calls are the most used of communication. Not just for personal purposes, but video calls are the go-to medium of interactions for professional as well as organizational purposes as well. Quick, efficient, and Transparent, Video calls are the better alternative to long e-mail threads and complex group meetings.
Recording Video Calls is the easiest way to make the most of information. Whether it is a long meeting or an interaction that needs to be reviewed or analysed, recording video calls is a great way to ensure that you can access the information you need at any point in time.
There are multiple online tools, software, and applications that provide the feature of recording video calls, editing as well as sharing them. While some of these tools are paid, there are also some free video call recording tools available on the internet.
In this post, we are here to recommend some Free Video Call Recording Tools that will enable you to record Video calls for Free, just as you like.
#1 FanVideo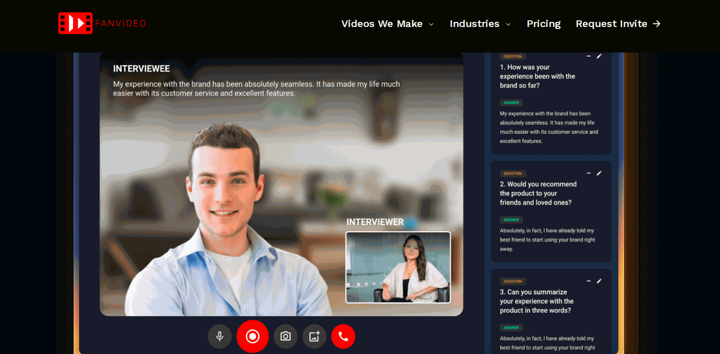 FanVideo is a simple, quick and reliable online video recording tool for recording video calls in high quality. This tool offers multiple formats for recording video calls, suitable according to varied mediums. It comes with a bunch of incredibly useful in-built applications which help to ease the process of recording videos while enhancing it creatively. Some of FanVideo's in-built features include the Auto-magic Video editor, a Teleprompter as well as Transcription. This Tool works not just for video calls but also for creating Ads, Recording Podcasts as well as for hosting Webinars. While FanVideo is a paid video call recording tool, users can access it for free by using 30 Free Credits that they will receive while Signing Up.
#2 Loom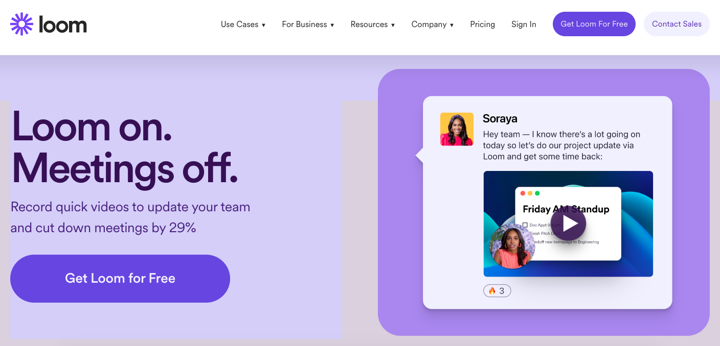 Loom is a free screen recorder that enables recording and sharing of video calls instantly. With a minimal and easy to understand video recording interface, Loom can be used by beginners as well as Pros. It works on iOS, Windows, Chrome, Mac and Android. It comes with a set of basic features such as editing and sharing and it renders a decent quality of video output. When you record a video call on Loom, you can share it instantly using a link that is generated right after the call. Loom comes in three different plans. The Starter Plan is free to use and can record video calls for up to 5 minutes.
#3 Screencastify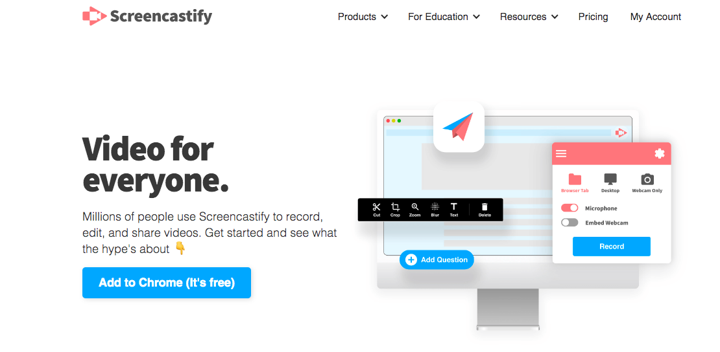 Screencastify is a quick video call recording tool that lets users record, edit and seamlessly share videos. With necessary video call recording and editing features, the best part about Screencastify is its starter pack which is absolutely free to use. The starter pack gives access to create 10 videos per user, with the maximum time limit of video being 30 minutes. While other Apps like Loom offers just 5 minutes of free video call recording playtime, Screencastify offers 30 minutes of video recording. Screencastify works on all major browsers and it also comes in the form of a Chrome Extension. The only downside to Screencastify is that it comes with limited features and that the free version only allows 30 minutes of video export.
Apart from investing in Free Video Call recording tools such as the above, you can also make use of any Mobile Applications to record video calls from your phone. This, however, is a risky option since most Video Recording Applications available on iOS and Android might not be reliable and often result in Data Leaks.
A good video call recording tool like FanVideo is not just high-quality, quick and efficient but most importantly, it is also reliable and secure to be used in the long run.