Who says that you need bulky software to record your screen? This simple solution allows you to record your screen without installing any software. Read on to know how!
Video is the leading medium of interaction in the year 2022. The COVID-19 pandemic sure made the world realize the importance of videos. No matter which part of the world you are in, or whichever industry you belong to, video is likely to make an impact on your preferences and choices way better than text.
If you too are looking to create some quality content using thought leadership or factual information, we recommend you start making your point through video.
If you are someone who is already pursuing or willing to pursue the creation of videos, then this article will be tremendously helpful for you.
Contrary to popular myth, you do not need to invest in any expensive Software or download a bulky application to your system for making good quality videos.
You can simply get the job done using a good quality webcam and a trusted online screen recorder like FanVideo.
It's really that simple!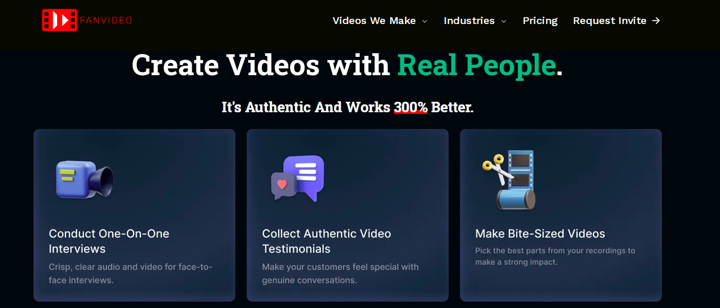 What is FanVideo?
FanVideo is an all-in-one online video and screen recording tool. To use FanVideo, all you need to do is sign up with a subscription plan of your choice, and Voila! You can start recording your screen anytime you want.
What are the features offered by FanVideo?
Fan Video is the best online screen recording application for 2022. These are the features that make it so:
- 4K Resolution Local Recording
FanVideo offers an HD Video resolution of up to 4K. This means that no matter which device or internet settings you are using to record your screen online, you can always be assured of the quality of the recording. Fan video offers local recording for all participants, this is what maintains a freeze free video quality at all times.
- Ease of Usage
While you do not need to download any hefty software to access FanVideo, you also do not need to be a Techie to access its features. From beginners to Professionals, the FanVideo interface is simple, to-the-point, and easy to be understood for all.
- In-built Automagic Editing Suite
FanVideo enables you to edit your videos just the way you want. With features like Colors, Fonts, and Custom Sizing, you can make videos for any medium that you want and edit them accordingly. Thanks to its in-built Automagic Video Editor, with FanVideo you can transform any recording into a branded video.
- Clarity of Audio
FanVideo offers uncompressed crystal clear audio for videos with separate transcriptions, audio tracks, and video tracks for each participant. To maintain optimal audio quality, FanVideo has an AI Audio synthesizer that enhances the quality of audio as needed.
- Automatic Transcriptions
FanVideo records automatic transcriptions while the screen or video is being recorded, these transcriptions are then converted into subtitles which can also be edited as needed.
- In-built Teleprompter
To maintain uniformity of speech, FanVideo has an in-built teleprompter. This feature works especially well in the case of interviews and webinars or podcasts being recorded.
- Quick Sharing
After you are done recording your screen or video, you can simply share it as needed through a link that is generated instantly after the video is recorded.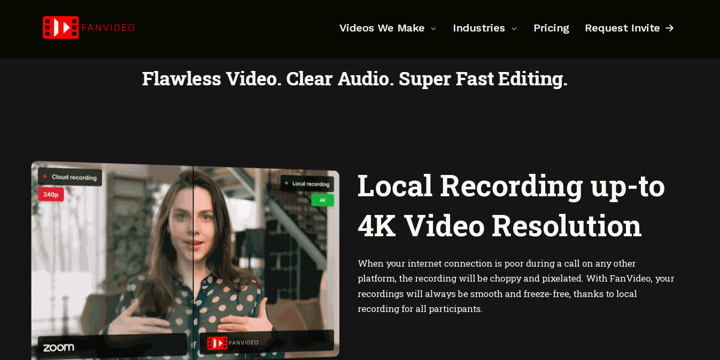 Moving on to the next big question,
What kinds of content can I record on FanVideo?
With FanVideo you can record multiple kinds of videos, such as:
- High converting and Lead-generating Ads
- Online Workshops and Webinars
- 1-1 Interview and Calls
- Podcasts
- Web Series
- Social Media Videos
- Youtube Videos
- 1-1 Online Events
FanVideo has something to offer for everyone!
If you are a Freelancer, you can use FanVideo to record your own series of thought leadership videos. If you are an entrepreneur, you can use FanVideo to develop a strong brand image and build customer trust with real-time insightful videos. If you are a Brand Manager, using FanVideo can enhance your output and help your brand garner more engagement over time. If you are a Content Creator or Podcaster, using FanVideo creatively can definitely help you build amazing traction and boost your online presence manifold.
Is FanVideo Free of cost?
FanVideo comes with multiple subscription options, all of which are paid. However, you can access a free trial on FanVideo by Signing Up on the Website. Post Sign Up, you will receive 30 Credits which can be used for a Free Trial.
What are some other screen recording Apps available online?
Some other online Apps that also offer the feature of Screen Recording are Loom, Screeencastify, Movavi, Panopto, and others. FanVideo has a multitude of great features that certainly give it an edge.
To know more about how to record your screen, follow our blog!
Happy Recording!