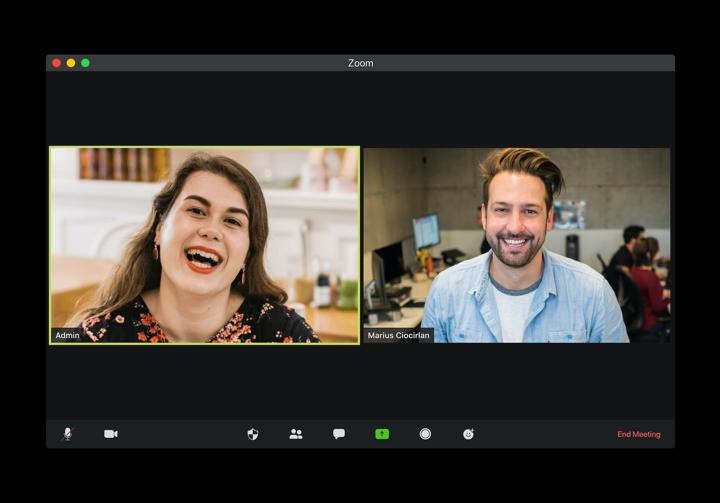 Video is the most effective form of validation. Whether it is about building brand presence, making an impact, or simply building customer trust, video is known and proven to be the most effective medium of conversion. From the Gram to something as detailed as a pitch deck, video works and performs well on multiple online channels. If you are someone who is looking to build growth prospects online, be it in the form of increased clients or simply to establish a robust brand or personal image, video is the way to go.
Whether you're striving to create an excellent personal brand or looking to leave an impactful impression in front of clients or fellow corporate professionals, a Video Recording Platform can help you record, present and explain your point better visually. In this post, we are here to introduce you to the 7 Best Video Recorder Platforms that can make your job easy.
However, choosing the right video platform, to begin with, can be a truly taxing job. In this post, we are here to talk about the 7 Best Video Recorder Platforms that you can use online so that you can begin your Video journey with ease.
#1 FanVideo.co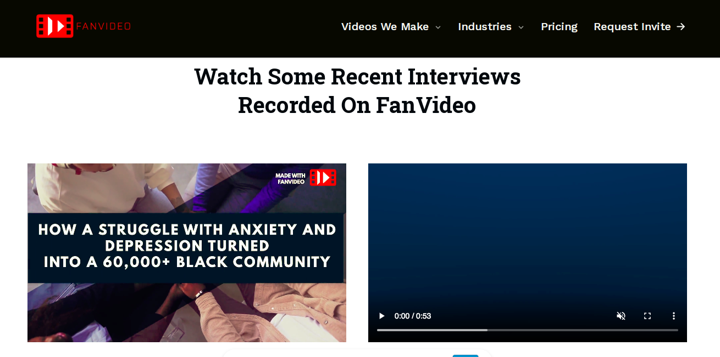 FanVideo is the best online video recorder platform for enterprises and professionals looking to create high-impact videos. With features such as 4K Video resolution, Subtitles, and their in-built Auto-Magic video creator, FanVideo is the quickest and easiest way to record video online. An excellent platform that offers seamless video recording for interviews, online workshops, Video Ads, Testimonials, podcasts, and even Webinars and events, FanVideo is a great choice for individuals and businesses alike. Some extraordinary features that make FanVideo better than other similar video recorder platforms include Multi-Channel Recording, a large selection of Customisable Templates that offer complete Branding solutions and inbuilt editing that is simple and effective. For users looking for an all-in-one online video recorder with an impeccable output at a reasonable price, FanVideo is a great choice.
TOP 3 FEATURES:
- 4K Video Resolution
- Inbuilt Video Editor with Customizable Templates
- Affordable Pricing
Pros:
- Easy to use and install
- Works on all major browsers
- Top notch Video and Audio Quality
- Good for Recording as well as Hosting Online Events
Cons:
- Not Free
However, To start a free trial, users will be needing 30 credits and subscribe to the Starter Plan that is available at a minimal cost.
BUILT FOR: iOS/Android
PRICE: Paid
#2 Veed.io
Veed is a comprehensive video recording tool that comes with a suite of video editing features. Suitable for video recording, streaming as well as editing, it offers a host of different features that are easy to comprehend and apply. What makes Veed different is features like Translation and a bunch of audio and video editing apps that make it easy for the user to create and stream videos at their convenience.
TOP 3 FEATURES:
- Comes with a selection of Audio and Video Editing Apps
- Offers Translation
- Beginner Friendly Interface
Pros:
- Comes with a Free Basic Version
- Easy to Use
- Multiple Users can Edit simultaneously
Cons:
- Free version has a watermark
BUILT FOR: iOS/Android
PRICE: Free for the Basic version; Monthly cost of INR 299/- and above for Basic, Pro and
Business Versions
#3 Loom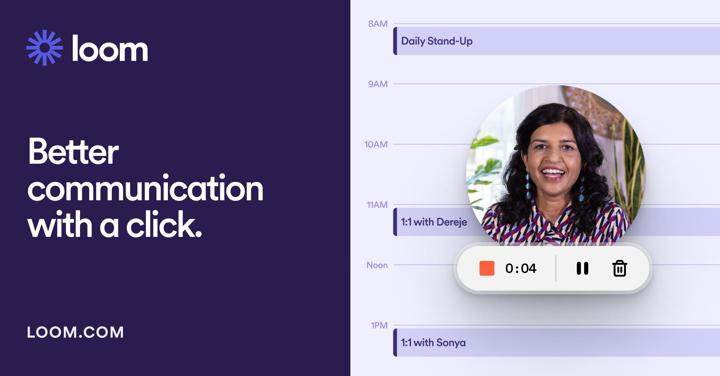 If you are looking for a free online video recorder that can suffice your day-to-day video recording tasks, then Loom is the way to go. While most video recorders are paid, Loom is absolutely free and offers basic video recording features namely recording, sharing and editing. Loom offers a pretty simple interface and it is suitable for those who are looking for a convenient and free alternative for online video recording for presentations, meetings and other video recording tasks.
TOP 3 FEATURES:
- Offers good quality Video Recording, Sharing and Editing
- Good for Virtual Meetings and Walkthroughs
Pros:
- Free
- Easy to use
Cons:
- Does not offer any extra features
- Video quality differs on different devices
BUILT FOR: iOS/Android
PRICE: Free
#4 Screencastify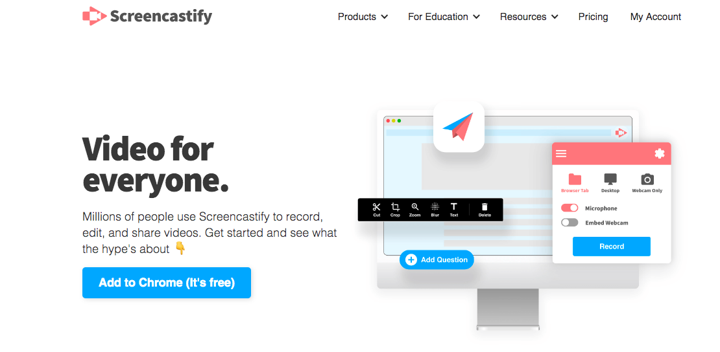 If you are looking for a video recording platform that is incredibly simple to understand and does the job in a precise way then Screencastify is the option for you. It offers a trio of features, namely Recording, Edit and Submission. Screencastify is a great option for Students and professionals having routine video recording needs. However, if you are looking to make high-quality or goal-oriented videos with an intention to upload or stream, Screencastify might not be the most suitable alternative.
TOP 3 FEATURES:
- No Software needed
- Comes with a User Monitoring page
- Works online
Pros:
- Comes with a Free Version
- Ease of Usage
- Paid Plans are affordable
Cons:
- Limited Features
BUILT FOR: iOS/Android
PRICE: $7 for Starter Version and $10 for Pro Version
#5 Bandicam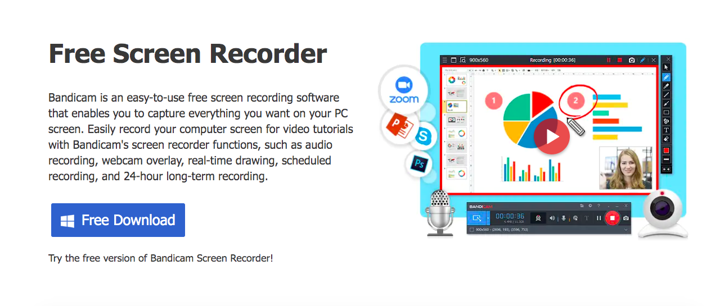 Bandicam is an easy-to-use video recording platform that comes with multiple associated features including real-time drawing, webcam overlay, scheduled recording, and Audio only recording among others. Bandicam offers multiple recording modes with an option of device segregation, hence making it work equally well on all devices.
#6 Panopto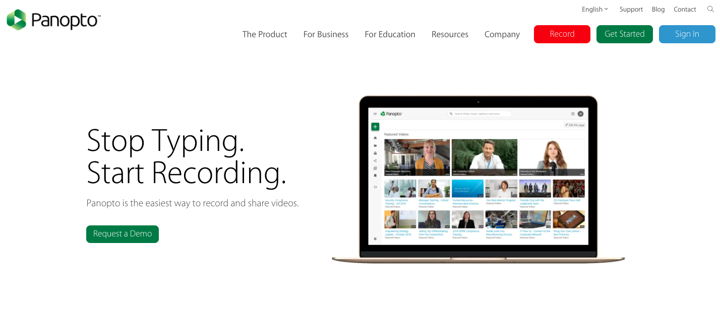 Panopto Express is the first of its kind online video recording platform that offers instant video recording, online. For using Panopto, you do not need to install any software or provide card details. Recording can be done directly through their web platform. Videos can be recorded and instantly shared to Youtube or Google Classroom. The only demerit of Panopto is that it does not offer any video editing or transcribing tools as other online video recording platforms do.
TOP 3 FEATURES:
- Instant Output
- Compatible with all major browsers
- Easy Shareability
Pros:
- No software installation needed
- Instant sharing to Youtube or Google Classroom
- Free
Cons:
- Does not offer Video Editing
- Comes with Limited Features and Functionality
BUILT FOR: iOS/Android
PRICE: Free
#7 Movavi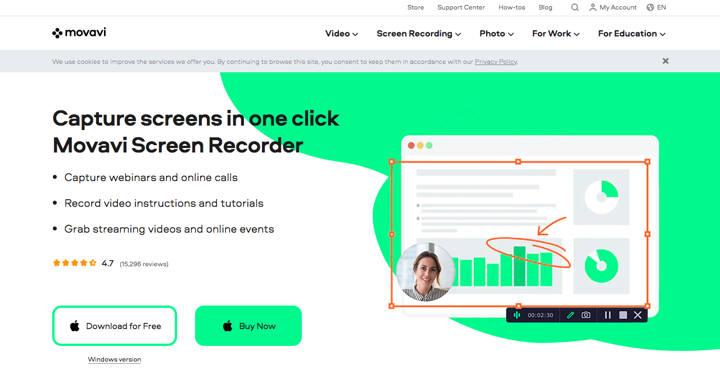 Movavi Screen Recorder offers a minimal and to-the-point interface for anyone looking for a reliable way to record and share videos online. It offers three different kinds of platforms that users can choose from. Features include Webcam Recording, Web Camera as well as Screen capture, suited for different video deliverables. While the Screen recorder comes in the form of downloadable software for both Windows and iOS, the Webcam recorder runs on all leading browsers. The highlight of Movavi is the web camera that runs online and comes in the form of an online subscription if users want their video to have no watermark.
TOP 3 FEATURES:
- Available in three different versions suited for specific video recording needs
- Offers a Screen Recorder and Webcam App
- Beginner-friendly App
Pros:
- Works on multiple OS and Browsers
- No Watermarks
Cons:
- Maximum file size is 700 MB
- User needs to pay for watermark removal
BUILT FOR: iOS/Android
PRICE: Premium Plan starts at $5 per month.
To sum it up, the best online video recorder platform is one that delivers a high quality output without burning a hole in one's pocket. An easy to use interface is always a plus!
Looking for further guidance about video recording? Follow our blogs to know more and to become a Pro when it comes to video creation.