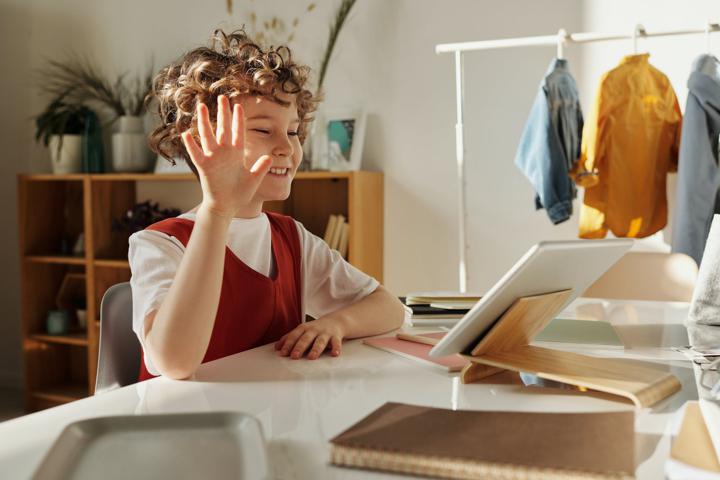 "We love this..." Three magic words say more than what any customer needs. Did you know 91% of millennials trust online reviews as much as friends and family? Don't you want to persuade your potential buyers with good feedback?
The power of word-of-mouth for a B2B or B2C service is colossal. In 2021, the smartest marketers know video marketing is key to get more eyeballs. But what is most feasible to create video content and get good feedback? The answer is video testimonials — the two-in-one solution for your business.
If you're using traditional video testimonials, there's a good chance you're looking for an alternative. It entails high production costs and takes time. What if an app could automate the process and help you collect feedback remotely?
Switching to a highly credible app for video testimonials has five advantages:
Set up a video call to take feedback from customers
Collect testimonials from customers in just one click
Easily merge, edit and export videos from recordings
Share testimonials on social or embed on a webpage
Record a video and share it with your close ones
.
Top 5 Apps To Collect Video Testimonials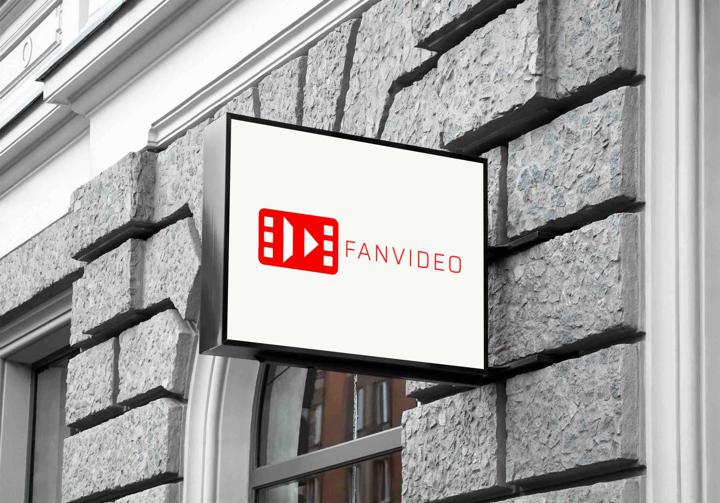 FanVideo is the best app to collect, record, edit, save and share video testimonials. One thing that makes FanVideo unique is that the company cares about your business and helps build trust in your products or services. They do so by customizing templates and videos according to your choice of design.
The FanVideo interface boasts of three remarkable options: a video call scheduler, a video testimonial collector and a video recorder.
TOP FEATURES YOU CAN'T MISS
Highlights: A video scheduler that lets your customers pick a date 😉, a video calling feature that could make you kiss goodbye to those ol' boring Zoom calls, the world's fastest video testimonial collector that makes it easy and simple to connect with hundreds of customers at once and oh, of course, a recorder where you can save any video. If that was not all, you also get super cool editing features. Get into the studio, merge, trim, filter and export your testimonials. To add to all of that, you also get 50+ templates free to help you plan your calls.
Price: Only $19 and you can sign up for a free trial without a credit card. Woah!
Platforms: Built for desktop and mobile, supports both iOs and Android.
.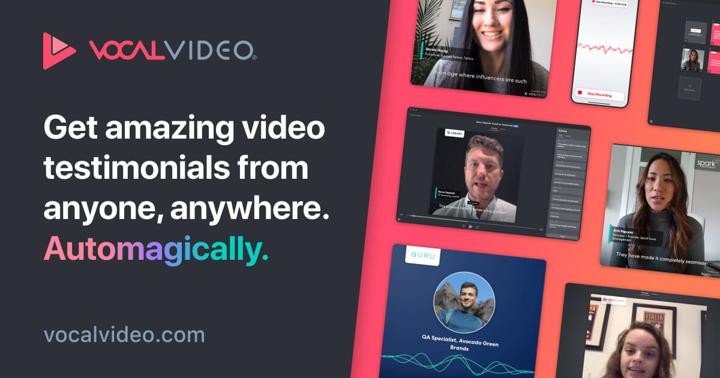 Vocal Video is another good option for any customer and the app's biggest focus is to save time. In its own words, "when we designed Vocal Video, we were focused on helping marketers save as much time as possible. So we designed the platform to integrate with Zapier so you can automate the entire process of making video testimonials."
Vocal Video automagically adds graphics and filters at every step of the video so customers do not have to spend hours editing it.
TOP FEATURES YOU CAN'T MISS
Highlights: Vocal Video claims it "makes it super easy to request a video testimonial, then collect, edit, and publish it without a lot of time or training."
Price: Vocal Video plans are a little on the expensive side with the starter pack at $99 (only 60 minutes). If you're not looking for many testimonials, the plans could dig a hole into your pocket.
Platforms: Built for desktop, tablet and mobile phones.
.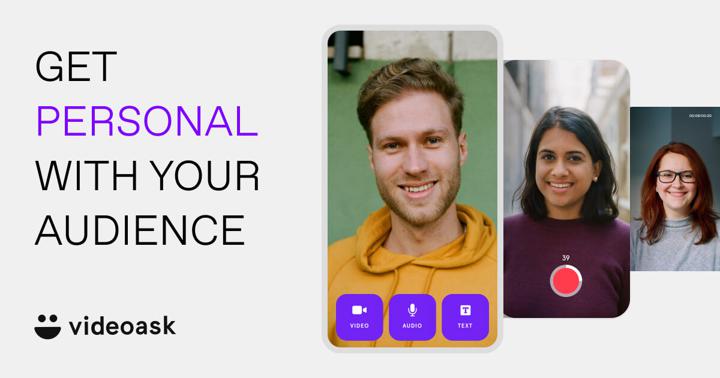 VideoAsk has quite a reputation in the testimonial market. It aims to get "personal" with customers on video. On its website, you can find special attractions like recording your question/s, sharing your link.
You can use "conditional logic, multiple response options (video, audio, text, etc.) and contact forms to make the conversation seamless". Moreover, the app records, transcribes and organizes all your conversations.
TOP FEATURES YOU CAN'T MISS
Highlights:

VideoAsk supports all answer types when you collect video recordings from respondents. All video/audio recordings are converted into text, so you can easily find key points.
Price: At $24 per month, the cheapest plan allows up to 100 minutes of video. Sadly, these videos come with VideoAsk branding.
Platforms: Built for desktop and mobile phones.
.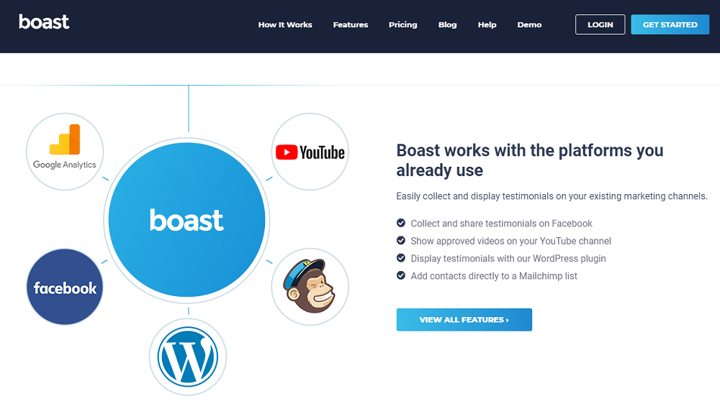 Boast was born to help businesses establish a powerful trust signal using customer testimonials. It lets you collect testimonials in the form of texts, videos and simple star reviews.
On its website, the company claims it is the "easiest" way to collect video testimonials, online reviews, and customer feedback. However, there is no option to send a link or to upload your own video on the platform.
TOP FEATURES YOU CAN'T MISS
Highlights: Boast offers automated email drip sequences built into their app which can make your life easier.
Price: The solo plan starts at $25 but it can only be billed annually. Keep in mind: the pack only allows you to access videos in 480p quality.
Platforms: Built for both, mobile and desktop.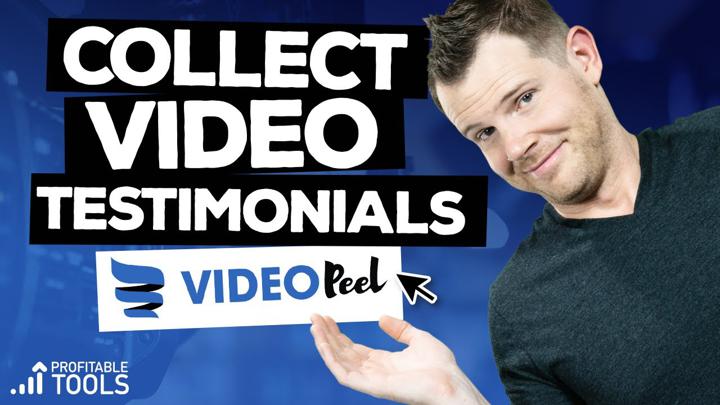 Video Peel helps businesses remotely capture testimonials and by sending customers a link to record their video.
The platform also allows you to customize templates. Not just that, you can select from different sets of messages and get started in minutes. It comes with Shopify and Amazon integration too.
TOP FEATURES YOU CAN'T MISS
Highlights: Video Peel's built-in video editor helps beautify videos and diminishes a user's need to export it to another video editing app. 
Price: A mystery yet to be solved. 🕵️ To get a costing range, you need to request a custom price quote. Too long a process, isn't it?
Platforms: Built for both desktop and mobile phones.
.
After reviewing all the features and highlights, our verdict goes to FanVideo where not only do you get all the easiest and fastest options to collect testimonials but you also get it at the cheapest price possible.
So what are you waiting for? Head to the FanVideo login page and sign up for a free trial. 🙂